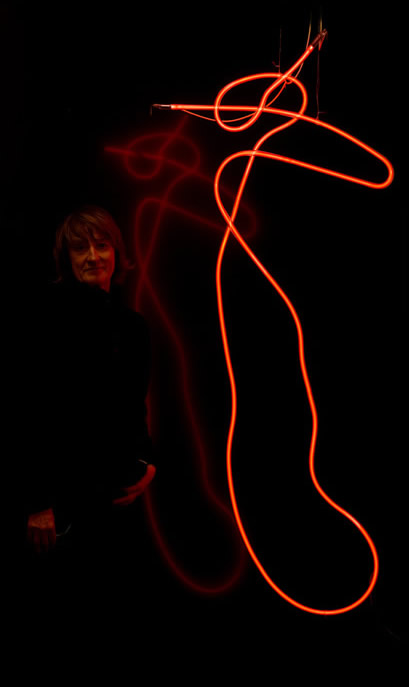 Gun Gordillo was born in Lund, Sweden.

Meeting Gun Gordillo and her art is meeting a positive, optimistic attitude to life and a personal, poetic approach, very sensitive to the varying contexts of her works. The agitation or the provocation remains in abeyance or else there may be something provocative about her may of creating new combinations of form, material and colour which are not only unconventional but also seem to imply a moving forward of the borders of the beautiful. What makes one uneasy is that there may be rebellious elements in the almost sublimely beautiful composition. This gift of cooperating with the material, which comes so natural to Gun Gordillo, makes her works unusually suited to function in many different context in a public milieu. The durability of dolerite, lead, copper, and zink plate in combination with contemporary fragile materials such as glass, plexiglass and, above all, neon light makes her works stand out among those which have been created with light as their basic artistic expression. There is a decidedly personal angle to her way of dealing with neon light which gives it a poetic dimension in marked contrast to the harsh stridency of advertising signs.

Gordillos work has been shown at several major solo exhibitions, most recently in 2015 at galerie denise rené, Paris. She has worked with the legendary gallerist Denise Rene for more then 30 years. She has also participated many group exhibitions including "The spirit of white" at Galerie Beyeler, Basel in 2004 and most recently "Néon, who´s afraid of red, yellow and blue?" at la Maison Rouge, Paris in 2012. She has also been invited to create several major installations at world famous companies and public sites in cities like Basel, Paris, Copenhagen and Stockholm.

Gordillo today lives and work in Copenhagen after spending many
years living and working in Paris.



selected solo exhibitions
2022
2112-project space , copenhagen, denmark "THREE SCULPTURES"
2021
sophienholm, orangeriet, denmark "INTERRUPTION"
2019
last resort gallery, copenhagen, denmark, "INFINI"
2017
last resort gallery, copenhagen, denmark, "for F"
2016
last resort gallery, copenhagen, denmark, "in light"
munkeruphus, denmark, "in WHITE"
1988,91,96,2004,2006,2010, 2015
galerie denise rené, paris, france
2015
banja rathnov galleri, copenhagen, denmark, "FUGAX"
2014
"VITA LUX" Broby Kulturhus, Sweden
2006
galleri profilen, århus, denmark "spins & spells" gordillo/fraek
2004
kristianstad konsthall, sweden
2001
kunstbygningen, copenhagen "vibrationer" gordillo/fraek
1998
cisternen, copenhagen "lys & lyd" gordillo/fraek
1996
borås konstmuseum, sweden
1995
lunds konsthall, sweden
skissernas museum, lund, sweden
1994
århus kunstbygning, denmark "sine qua non" gordillo/fraek
galerie egelund, copenhagen
1993
galerie rösch, karlsruhe, germany
galerie ars nova , gothenburg
1991
galerie zoumboulakis, athen
1990
white art center, gent, belgium
1986
galerie asbæk, copenhagen
1984
galerie leger. malmö, sweden
galerie specta, århus, denmark
1983
galerie asbæk, copenhagen
1982
galerie specta, århus, denmark
krognoshuset, lund, sweden
1981
ordrupgaard museum, copenhagen
galerie leger, malmö, sweden
galerie forum, stockholm
1980
galerie leger, malmö, sweden
galerie bleu, stockholm
galerie asbæk,copenhagen
1977
galerie leger, malmö, sweden

selected group exhibitions
2022
Faaborg museum , Denmark
Galerie Denise René, paris, france "forme/mouvement"
Bonisson Art center, france "Hommage á Denise rené"
2021
Topographie de l'art, Paris, "ERUPTING LIGHT"
galerie denise rené, paris, "small is beautiful"
misa art, könig galerie, berlin, germany
galerie denise rené, paris, "dynamique du bleu"
galerie denise rené, paris, "structure du silence"
2020
galerie denise rené, paris, "Colorful!"
Art Genève, galerie denise rené, genève, switzerland
ARCO, galerie denise rené, madrid, spain
2019
enter art fair, last resort gallery, copehagen, denmark
galerie denise rené espace marais, paris, "group show"
galerie denise rené rive gauche, paris, "group show"
ARCO, galerie denise rené, madrid, spain
2017
CODE ART, last resort gallery, copehagen, denmark
galerie denise rené, Paris, "que de la sculpture"
chamber new york, new york, "room with its own rules"
1986-2017
ART BASEL , galerie denise rené
2016
galerie denise rené, paris, "sculptures et reliefs"
galerie denise rené, paris, "transparence"
galerie denise rené, paris, "cercle et carré"
market art fair, stockholm, sweden, last resort gallery
2014
constructive Art - kinetic Art ESPACE EXPRESSION, Miami
galerie denise rené, paris, "petits formats"
galerie denise rené, paris, "7 artistes nordiques"
galerie denise rené, paris, "EXPOSITION DE GROUPE"
2013
galerie denise rené, miami, "Hommage à Denise René"
Gesellschaft für Kunst und Gestaltung e.V, bonn "Ceci n est pas une lampe Neon, Argon, LED & Co."
galerie denise rené, paris, "Hommage à Denise René"
Art ON Gallery, Istanbul, turkey
villa datris, l'isle-sur-la-Sorgue, france
1985-2013
FIAC , galerie denise rené
2012
galerie denise rené, espace marais "Hommage à Denise René"
galerie denise rené, espace marais "reflexions, forme, lumière"
la maison rouge , paris Néon, who´s afraid of red, yellow and blue?
2009
galerie denise rené "happy yellow"
2008
galerie raquel arnaud, sao paolo "luz, cor e movimento"
2007
galerie denise rené "black & light"
2006
galerie denise rené " quadrature du cercle"
forum würth, arlesheim, basel "kunst is bewegung"
kunsthalle würth, schwäbisch hall, germany
2004
musée matisse, cateau cambresis, france. " sur la ligne"
2003-2004
galerie beyeler, basel, schweiz. " the spirit of white"
2002
galerie denise rené, paris. " cinq scandinaves" baertling/fraek/gordillo/jacobsen/mortensen
2001
galerie hyunda, seoul, corea
galerie linder, basel, schweiz
wanåsutställningen, sweden
centro atlantico de arte moderno, las palmas, spain "hommage à denise rené"
gammel holtegård, denmark "klar form"
2000
musée de cambrai, france. " le mouvement et la lumiére"
tsukuba museum of art, ibaraki, japan
marugama genichiro, inokuma musuem of contempory art, japan
"form and movement in the 20 th. century"
galerie denise rené, paris "NEON"
1999
arco, madrid, galerie denise rené
charlottenborg utställningsbygning, copenhagen "lumia"
1998
galerie pixi, paris "blanc"
galerie denise rené, paris "intuition pure"
1997
centre culturelle suedois, paris. "fluide peripherique"
camredon art et culture, l´isle sur la sorgue, france " la regle et l´emotion"
galerie denise rené, paris, "lumière et mouvement"
strasbourg,france " hommage a denise rené"
1992
galerie luxembourg, luxembourg.
galerie denise rené, paris ."art construit, tendences actuelles"
kunstmesse, köln, galerie denise rené
1991
kunstforeningen, copenhagen "lys"
galerie art 4, la defense, paris. "la lumière et la ville"
1990
centre culturel de compiegne, france. "abstraction géométric"
galerie egelund, copenhagen. "groupe denise rené"
galerie theo, madrid. " hommage au carré
1989-91
ARCO madrid, galerie denise rené
1989-90 art expo frankfurt, galerie denise rené
1989
wanåsutställningen, sweden
galerie naviglio, milano. " denise rené presenta"
galerie redforn, london. "denise rené back in town"
1988
wanåsutställningen, sweden "la forêt imaginaire " neon project gordillo
1987
copenhagen kunst i byen "le pont imaginaire" neon project gordillo
kalmar museum, sweden. "magic light"
1986
la malmaison, cannes, france. " du reel au virtuel"
1985
galerie denise rené, paris "les femmes et l´abstraction constructive"
1982-83
art basel, galerie leger
1981
nordjyllands kunstmuseum, denmark
1977
lunds konsthall, sweden "dan lund"

selected art/architectcure integration
2020
AIRA restaurant, djurgården stockholm, sweden
"LA FÔRET MIROIR", gottsunda uppsala, sweden
2018
Kavlebod brygge, copenhagen, denmark
2017
VIA University College, Aarhus, denmark
2012
TTC Jönköping, monumental intergation , neon, acryl
2008
copenhagen, KAB, monumental integration, freak/gordillo
2007
stockholm, Martin Olsson AB, neoninstallation
2004
basel, schweiz ,jacob burckhardt haus,
monumental integration - neon, glass, concrete,steel
2003
copenhagen,HK, monumental integration - neon, plexiglass
2001
arlanda airport - neoninstallation
bagsværd station, denmark – wallreliefs
2000
lund, sweden, railway station wall integration- neon, steel
allerød, denmark, crimp. wall integration - neon, wire
1999
philips denmark, copenhagen. monumental integration- fibreoptic, stål
värnamo library, sweden , wallrelief cortensteel, neon
copenhagen, den sociale højskole, wallintegration – wire, neon
1998
quay of hammarby, stockholm, 8 monumental sculptures - terazzo,steel,neon
sveavägen, stochom, monumental sculpture – terazzo,neon
gävle musikhus, sweden - neonnotationer in wire, neon
AMU hillerød, denmark, wallintegration in neon
1997
metrostation hötorget, stockholm - monumental neon integration
astra draco, lund, sweden - monumental neon integration
norrtälje hospital, sweden, wallintegration - neon, cupper, plexiglass
1996
borås, sweden, monumental sculpture - steel, brass, neon
1995
EDF, la defense, paris, wallintegrations - neon, plexiglass, cupper
1994
DSB, denmark, in traincoaches - integrations in steel, rubber
1993
siemens, copenhagen - monumental leadrelief with neon, cupper
KAD, copenhagen, monumental integration - neon, cupper, plexiglass
HDK, sweden, monumental sculpture - steel, cupper, neon
Helsingborg library, sweden, monumental mobile - steel, plexiglass, neon
1991
astra, södertälje, sweden, monumental sculpture - diabas, plexiglass,neon
copenhagen, egmont builsing, wallintegration - cupper, neon
1990
nykredit, ålborg, danmark, monumental integration - neon, plexiglass, lead
folksam, stockholm - neoninstallation
ryhov hospital, monumental integration - wood, neon
1989
copenhagen businesschool, copenhagen - wallreliefs in lead, cupper,neon
copenhagen kommunedata, monumental integration - plexiglas, neon, lead
paris, geoffrrey st. Hilaire hospital, wallintegration - lead, neon, wood
la defense, paris, entrance art 4 - neoninstallation
1988
malmö, sweden , televerket - monumental integration - neon, cupper
jydsk telefon, århus, denmark, monumental integration - neon, lead, plexiglass
1987
slussen bussterminal, stockholm, monumental integration - wood, steel, plexiglass, diabas, cupper, neon
1986
fredericia station, denmark, monumental integration in cooperation with freddy fraek - neon, cupper, wood
IBM, allerød, denmark, monumental integration – neon, lead, plexiglas
statens seruminstitut, copenhagen, monumental integration- neon, plexiglass, lead, gold
roskilde, denmark, unicon, - monumentalrelief -cupper, neon
ålholmen school, copenhagen, monumental integration - neon, plexiglass